Digital Banking
Manage your finances anytime and anywhere with IMCU Digital Banking. See below for enrollment guides, tutorials and features of mobile and online platforms.
Please note: You will need to use a recent version (last 2 releases) of Google Chrome, Mozilla Firefox, Apple Safari or the last version of Microsoft Edge.
Online Banking is NOT accessible through Internet Explorer.
Exciting Features:
Payment and card features give you more control
Transfer features provide more access and more options
"Card Swap" feature offers seamless transition with expired, reissued or lost/stolen cards

Nickname accounts for easy identification
Send money via your IMCU debit card to anyone with an email/mobile phone number
Robust financial tools allow access to your full financial portfolio
Download the App Today!
Enrollment/Access to Accounts
General Consumer Banking FAQs
Commercial Banking FAQs
View the videos below to learn more about our new Digital Banking! 
Basic Online Banking & Login Process:
Retail Online Banking Video
Transfers to send funds to and from own accounts
Send funds internally from Member2Member
Link accounts
Set up external accounts to transfer to
Sending funds to others, regardless of financial institution, through P2P
Payment options and locations
Secure messages
Transactions processed through online banking including single and recurring transactions, as well as deposited checks
Card controls for debit and credit cards
Stop payment requests
Branch locations 

Commercial Online Banking Video
Commercial users and rights assigned to that user
Providing access to users
Managing types of transactions users have access to, as well as drafts and approvals
Manage limits, remove access, provide view, deposit and withdraw rights
Access custom features
Manage payment templates
Mobile authorization and notification to users
Managing transactions (approving, cancel, notify, inquire)
ACH transactions, Wires, Payment from Files (payroll, collection, batch, ACH pass-thru, tax payments)
Subsidiary management
Mobile authorizations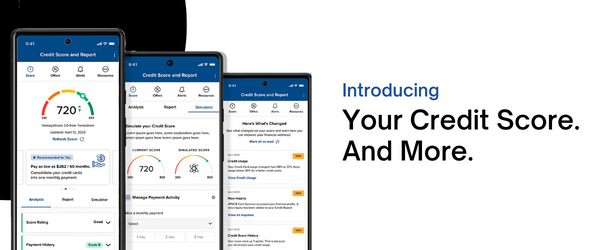 Your Credit Score. And More.
Anytime. Anywhere.
STAYING ON TOP OF YOUR CREDIT HAS NEVER BEEN EASIER
With one powerful tool, access your credit score, full credit report, credit monitoring, financial tips, and education.
You can do this ANYTIME and ANYWHERE and for FREE.

Keep it simple, with online banking.