What Is the Best Credit Card To Open When You're Young?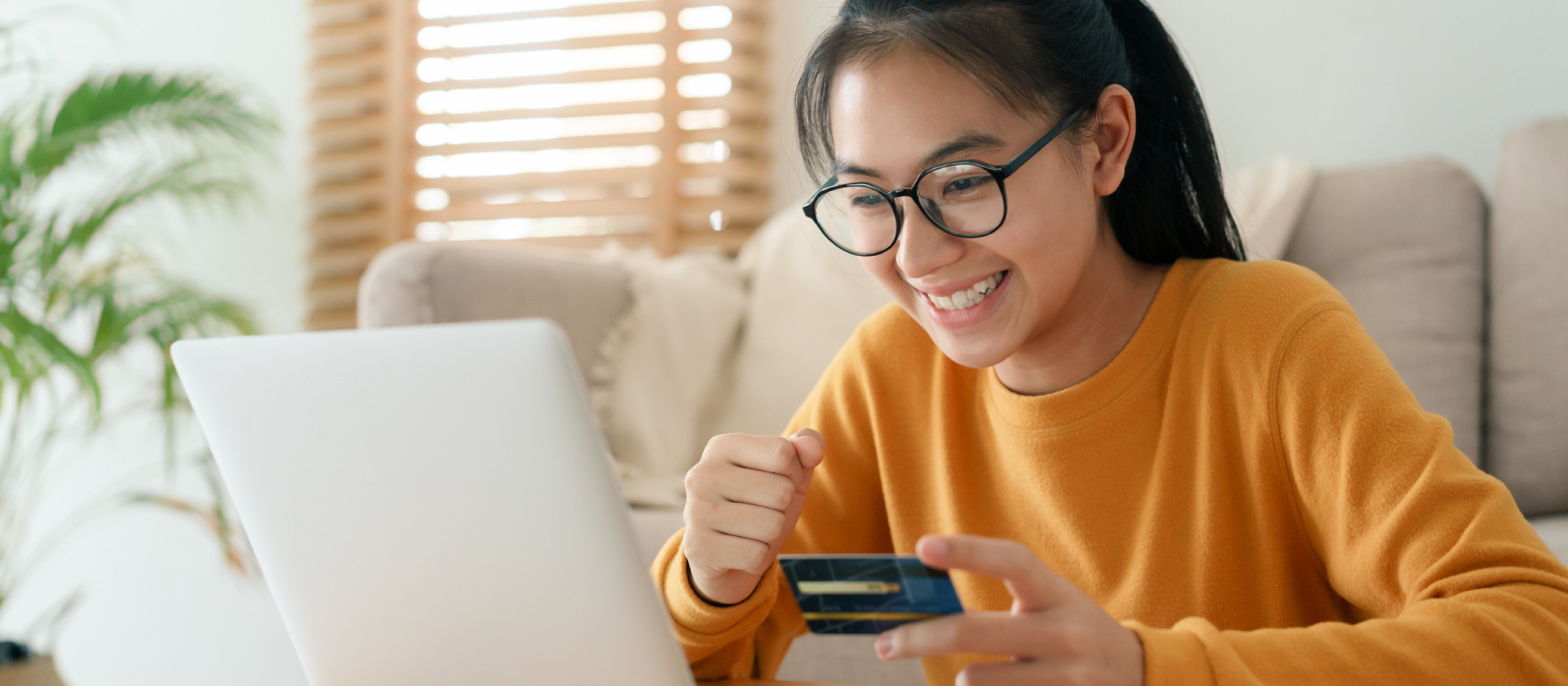 We all know that financial literacy is important to thrive in today's world. But sadly, the options for financial education are few and far between, especially for young people. Thankfully, there are a few good options out there—especially when you work with us at Indiana Members Credit Union.
At IMCU, we prioritize financial education for youth in our membership offerings—particularly, with our SmartStart Program and Jumpstart credit card. Smart Start teaches children (and their parents) good financial habits, and our Jumpstart card is one of the best credit cards for students, young adults, or those new to building credit. With these services at your side, you can help your child enter adulthood with practical, effective knowledge on how to budget, save, and build credit on their own. 
Keep reading to learn more about building credit for adulthood, what to look for when getting your child's first credit card, and why our JumpStart card should be at the top of your list.
How Young Is Too Young To Build Credit?
Typically, the minimum age for credit card ownership is 18. However, just because your child isn't old enough to own a credit card doesn't mean they can't start building good financial habits. The sooner you can start teaching your child about managing their finances, the easier it will be for them to do so as an adult. Keep in mind, there are ways to practice budgeting without having a credit card—and IMCU offers one of the best avenues for financial literacy: through our SmartStart Program.
Smart Start teaches children the basics of budgeting, debt management, interest, and other key concepts. Kids can learn about money alongside their parents and build a solid foundation of financial responsibility.
What Percent of 18-Year-Olds Have a Credit Card?
A 2021 Bankrate survey found that just over half of 18-year-olds have at least one credit card… 
…But How Can an 18-Year-Old with No Credit Get a Credit Card?
Generally, credit card issuers expect that an 18-year-old applicant will not have a long credit history. That said, there are a few things your child should have ready before applying for their first credit card. Here are two key factors to keep in mind when seeking out a credit card with them:
Annual Income: Income is the primary way credit unions like IMCU decide on approval, as well as interest rates and how big of a credit line your child will receive. Wages count as income, but so do scholarships, trust funds, and a variety of other sources. Be sure to sit down with your child and help them get a clear idea of what their income is.
Debt-to-Income Ratio (DTI): In some ways, your ability to pay back debt is more important than how much money you make—especially when applying for a credit card. DTI is the percentage of annual income that a person uses to make regular payments on debts; for a young adult, regular debt payments might be a monthly student loan payment or car note. While there is no "perfect" DTI for credit cards, 36% is a good ratio to have when applying for a credit card; for clarity, this would mean that 36% of your child's income is being used to pay off debt.
What Is the Best Credit Card for a Young Person?
The best credit cards for beginners will encourage good financial habits in a low-risk environment—all while providing an easy entry point for new credit builders. With this in mind, IMCU's Jumpstart card offers a few benefits, such as:
No Annual Fees | There's no cost associated with opening a Jumpstart card; get approved, and get started right away!
Low Starting APR | High interest rates can be challenging on new credit card owners, particularly as they're learning to budget. That's why Jumpstart's first year of ownership offers very low annual percentage rates (APR), which you can view here. This is a perfect time for kids to practice making larger purchases to pay off over time. These sorts of behaviors will positively impact the owner's credit score and show kids that debt isn't scary when managed properly.
Lower Credit Limit | As intimidating as mistakes can be—especially for parents thinking about their child's future—having the room to learn and grow is important for managing money. A lower credit limit creates that learning space while ensuring that budgeting mistakes don't yield massive consequences. 
On-Time Payment Rewards | Paying on time is always a positive, but Jumpstart credit cards give a little…extra credit for timely payments. Firstly, cardholders are not charged interest on purchases if the debt balance is paid by the due date. Jumpstart cards also reward consistency and habits, including double rewards points for 12 consecutive months of paying on time.
Find Your First Time Credit Card at IMCU
At Indiana Members Credit Union, we offer the best first credit card for young adults: our
Jumpstart
credit card. With an easy signup, low starting interest rates, and multiple ways to reward good credit management, we help you teach your child not just the value of money, but the benefits of spending money wisely. Please visit our website if you'd like to learn more about Jumpstart or our
SmartStart
financial literacy program, which offers even more ways to set your child up for future success.