What is A Good Interest Rate on a Car Loan?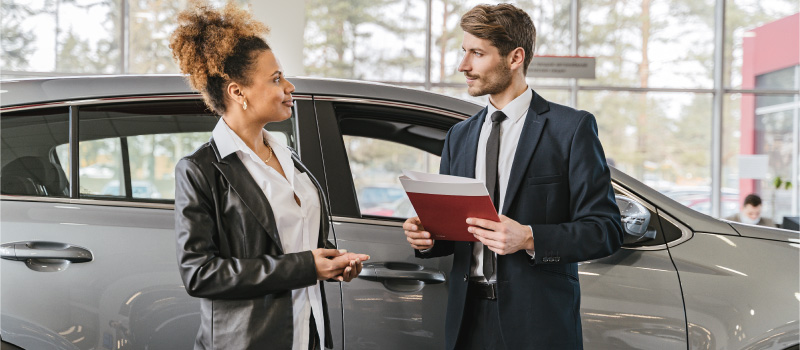 Reliable transportation is a top priority for most people. Whether it's simply getting from point A to point B, commuting for work, dropping kids off at school, or just shopping for groceries, a reliable car is a necessity for many Americans. In fact, there are over 280 million cars registered in the United States. 
You would think with that many vehicles, the car buying process would be completely optimized and hassle-free by now. In reality, buying a car can still be quite stressful. One of the biggest factors to consider when buying a new or used car is how you plan to pay for it. For many people, an upfront cash offer isn't always the most feasible strategy. That's where auto loans come into play. 
Auto loans allow you to pay for a small portion of the car upfront and then pay off the rest of it (with interest) over time in the form of a monthly payment. In some cases, you might even be able to get a car loan that doesn't require any kind of down payment. Car loans, their interest rates, and their terms and conditions will vary from person to person and lender to lender. It's important to do your homework to ensure that you get a good car loan and interest rate. In this blog we are going to break down the best
auto loan rates
for all kinds of circumstances.
What is a Good Interest Rate on A Car?
Simply put, the best interest rate on a car is the lowest one you can find. As an aside we should note that if you come across a zero percent interest rate, that should be a red flag that the lender is taking advantage of you in other ways. So technically speaking, the absolute lowest rate isn't always the best. That's why it's important to do your research and get a loan from someone you trust, like us at  Indiana Members Credit Union.  
But, generally speaking, the lower the rate, the better the loan will be. Let's say you go to a car loans website to compare multiple lenders all in one spot. You fill out a quick car loan calculator or survey, then click submit to see your possible results.  
In many cases, you will find a bunch of different rates. Typically speaking, you will notice that credit unions are among the lowest rates, while car dealerships and big banks can be several percentage points higher. While offers will vary based on ​​car loan interest rates, they might also have associated promotions like:
No interest for a certain amount of time
Delayed start date of monthly payments
No down payment necessary
All of these different factors can make it difficult to tell what the best offer really is. So with that in mind, let's break down some of the average car loan interest rates in 2022 and how they can vary based on your situation. 
Average Interest Rates
Interest rates are determined by a handful of  factors. A few of the most important variables are:
Your credit score
The length of your loan
Whether the car is new or used 
Typically speaking, the higher your credit score, the lower your interest rate will be. Similarly, loans for new cars tend to have slightly lower interest rates than used cars. As for loan length, the general rule of thumb is that the longer the loan term, the lower your payment will be. It is worth noting however that even though longer loans might have lower monthly payments, the total payments plus interest will be higher than a shorter term loan. Shorter term loans generally come with a lower rate as well. That means the longer the loan, the higher the rate will be, which adds to the total amount owed over the life of the loan.
So what is a good interest rate for a used car? What is the average interest rate on a car loan with a 750 credit score? According to Business Insider, average rates looked like this: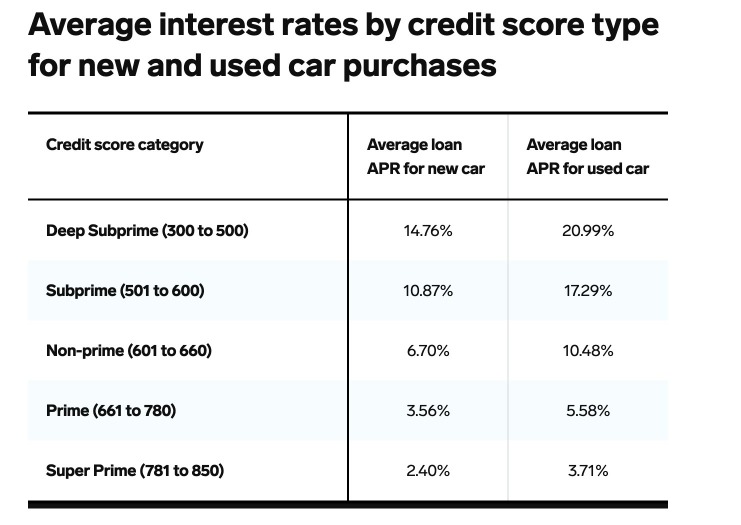 IMCU…Rates That Make You Say Whew!
That's right, with our credit union auto loan rates you can breathe a sigh of relief. We are confident that at Indiana Members Credit Union, you can find more than just the best car loan rates today. You'll also find good people with a passion for serving their community and providing a great experience throughout your whole car buying journey.
So, no matter your credit score, the car you want, or the length of your loan, rest assured we are here to serve you. After all, buying a car shouldn't be a headache. It's a necessity, a big purchase, and something to celebrate. Don't let the stress of financing it get in the way. 
Ready to start exploring your options? Check out our current auto loan rates, apply today, or contact us if you have any questions.