Support Your Favorite Cause with Every Signature Transaction You Make on Give-Back Cards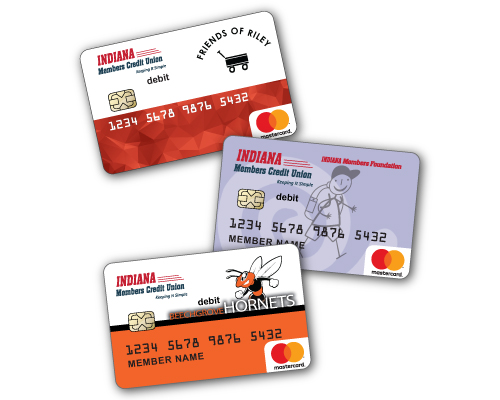 We're very proud of the partnerships Indiana Members Credit Union has established with organizations and causes in the communities we serve. They're doing great work to make Indiana an even better place to live and work, and we're happy to show our support.
That's why we've created an easy way for you to not only show your support, but also make regular contributions. It's our Affinity Debit Card program! With IMCU accounts, you're eligible for a free debit card -- and you have the option to choose from a long list of affinity cards branded to your favorite organizations. Many of those cards are what we call give-back cards. That means every time you use the card to make a signature transaction, we donate to the cause.
For example, you might choose the Friends of Riley Hospital card. Or you might choose to support your community's high school or school district. They'll receive a donation with every signature transaction. There's even an affinity card that allows you to help the Indiana Members Foundation's efforts to support learning and educational success throughout central Indiana. You can choose from more than 30 give-back affinity cards!: https://www.imcu.com/personal/checking
What do we mean by a signature transaction? When you swipe or insert your card at a business, you're asked whether you want to make a Debit or Credit transaction. When you choose Credit, you're typically asked to provide a signature. So if you want the cause or organization that matters to you to get the greatest possible reward, be sure to choose Credit every time.
As with all of our debit cards, our affinity cards can be issued instantly at any of our locations. They're accepted anywhere the MasterCard® logo is displayed and can be used for free access to all IMCU ATMs, as well as the national Alliance One and AllPoint ATM networks. Debit cards are safer than carrying cash and are easier to use than writing checks. Funds are debited directly from your checking account, so you don't have to worry about building hefty credit card balances or paying costly interest rates.
Want to carry one of our affinity cards? Just stop by your nearest Indiana Members Credit Union location and let them know which card you'd like. You can even trade your current IMCU debit card for the affinity card of your choice. What an easy way to support and show pride in the organizations that matter to you!