Cancer Awareness Nomination 2020
IMCU offers a cancer awareness debit card to support local initiatives that improve the lives of those affected by cancer. In 2019, the Men's Health Services Programming of Cancer Support Community Central Indiana was selected as the beneficiary of the IMCU Cancer Awareness Debit Card.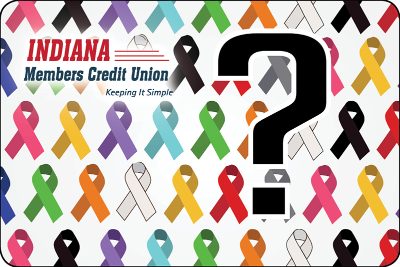 It's time to select an organization to benefit in 2020! Any local, nonprofit, 501c3, cancer-related organization can be nominated. A portion of each signature based transaction made with this card March 1, 2020 - February 28, 2021 will be donated to the selected organization. You can nominate an organization January 13 - January 27, 2020 via one of the following ways:
Send an email to imcugivesback@imcu.com.*
Thank you for your support!
*By submitting a nomination/vote, you are electing to receive email notifications regarding the contest and other Indiana Members Credit Union-related emails. You may choose to manage your email preferences by clicking "Modify Preferences" at the bottom of any IMCU email.